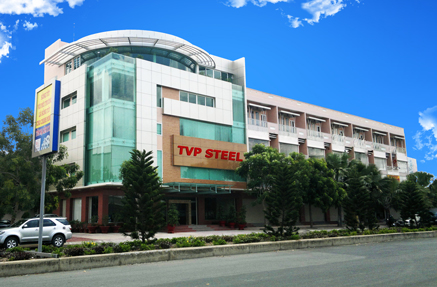 TVP Steel Joint Stock Company is known as one of the leading companies in the field of manufacturing and trading high quality galvanized and color coated steel products, steel plates, steel sheets and multi-tube products.
With the orientation to become a specialized economic company, we constantly invest in the most modern new technologies and always keep technical leading on the Vietnamese market.
We are always developing new products which belong to the top of construction field, completing closed production and trading system to create the best product value in the market with a suitable price.
In recent years, TVP always affirms the leading position in technology and continuously invests to expand its market share in steel manufacturing. In addition, TVP already took advantage of the great opportunity to develop high technology color coating line – a modern technology project to meet growing demand of the market for product quality such as materials for Home interior design, wood-like and stone-like corrugated steel.
Besides, TVP also invested Hitachi's Cold Rolling Line of Tenova Group and American I2S, Push Pull Pickling Line was installed by Tenova group. Specially, TVP has invested Continuous Galvalume Line of Italy's Danieli group with a capacity of 150.000mt/year.
With the heavy investments, TVP believed that we will become a leading company in Southeast Asia for manufacturing building materials.
With the customer's confidence, TVP Steel JSC invested successfully in an Industrial Park with a series of new projects and diversified industries and this opened the way for TVP to succeed and be more succeeded in the future.
Thank you for your cooperation and support for TVP JSC over the years. We also hope to get your backing in the future because your success is our TVP's success.